Scott Phelan isn't only a cherished member of Rainbow Village's Board of Directors. He's also a seasoned Certified Financial Planner (CFP) with Janney Montgomery Scott, LLC. A CFP since 1997 who often gives of his own time and treasure to support our mission of bringing Help, Hope, Housing and Healing to families experiencing homelessness, Scott is never too busy to roll up his own sleeves to prep an apartment for an incoming family and regularly recruits his own family members to pitch in. Today, he's helping out in a slightly different, but equally impactful way by tapping into his wealth of knowledge in estate planning, retirement planning, investments and charitable giving to outline three tax-saving ways our supporters can Give the Gift of HOPE as 2022 winds to a close.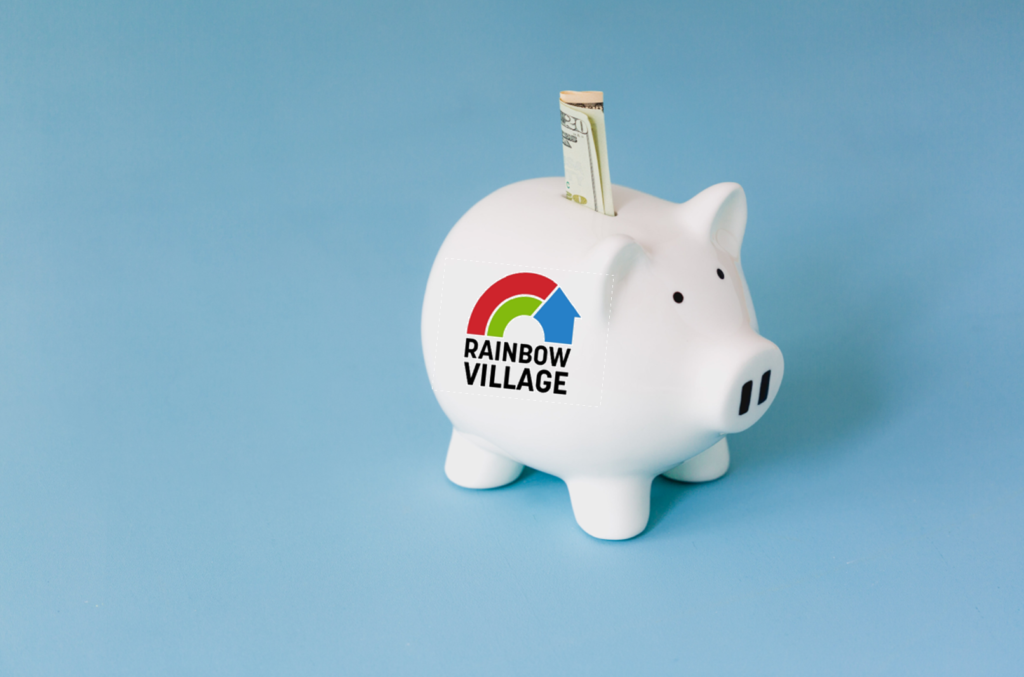 Give Highly Appreciated Stock – You may have stock in your portfolio you'd like to off-load but may be apprehensive to sell because of the capital gains consequence. If you give $10K to a nonprofit in cash, you'll get a $10K tax deduction. But if you give $10K in highly appreciated stock, you get the same tax deduction, but you also get rid of an asset you might have been reluctant to sell. The charity can then sell it – without facing capital gains taxes because of their 501(c)3 status – and they get the full benefit of your $10K donation. To give the gift of HOPE through highly appreciated stock to Rainbow Village, please contact Chief Philanthropy Officer, Randy Redner at RRedner@RainbowVillage.org.
Give a Required Minimum Distribution from your IRA – For those who are 72 ½ or older and are required to give a minimum distribution (RMD) from your IRA, did you know you can give up to $100K a year out of that required distribution directly to charity and keep it off your tax return? For example, let's say your required minimum distribution is $40K for the year and you decide to give $15K to charity and take the remaining $25K to cover living expenses. That $15K donation will not be treated as income and can stay off your tax return. Bear in mind that your 1099 from any brokerage firm will still show a distribution of $40K, so you'll need to make your tax advisor aware of the fact that you only took $25K and donated the remaining $15K. It's also important to note that the $15K will need to go directly to the charity and NOT through your checking account in order for this to work. Rainbow Village's Randy Redner will be happy to walk you through the appropriate steps. In addition to the email address above, you can also reach Randy at 770-497-1888 ext.13.
Bunching Tax Deductions – Let's say that on average every year, you give $25K to charity and you know you're going to continue to do so consistently every year for the foreseeable future. If in 2022 you have had an unusually good year – maybe you sold a business or received a particularly big bonus, you may have a fairly good inkling that the likelihood of 2023 stacking up as well is somewhat unlikely. You could take advantage of your unusually good year and "bunch" your tax deductions by making your $25K donation for 2022 AND your $25K donation for 2023 at the same time this year when you know your income is up. As an added perk, by giving $50K, you'll get a little more of a benefit by doing it all at one time vs. spreading it out over two years. For large donations, you can contact Randy Redner or make your donation online at RainbowVillage.org/donate.
"Yearend is a great time to give because you have a solid grasp of what your year looked like," said Scott. "If you've had a really good year, you can take care of your family and have money left over to give to those in need. Travelocity once listed Metro Atlanta as the 5th Most Giving city in the U.S. and there are a lot of worthy causes out there in this region. For me, one of the biggest reasons to donate to Rainbow Village is that they are making real, lasting changes in the families they serve. This is not a band-aid organization. Rainbow Village provides comfort and a safe, secure place to live for families experiencing homelessness in addition to transformational programming and success coaching. Their residents leave different people ready to pursue self-sustainability in ways they couldn't have before."
Donations of all sizes are deeply appreciated by the team at Rainbow Village. To make a one-time donation, become a monthly recurring donor or give the gift of HOPE this holiday season, we invite you to visit our secure online donation page!
Because his advice is educational in nature only, Scott Phelan wishes to issue the following disclaimer: Everyone's circumstances are different, and individuals should consult with their advisors before taking action on any of the tips outlined in this article.