Nonprofit Hosted Highly Successful "We Are Family" Benefit Gala at Atlanta Athletic Club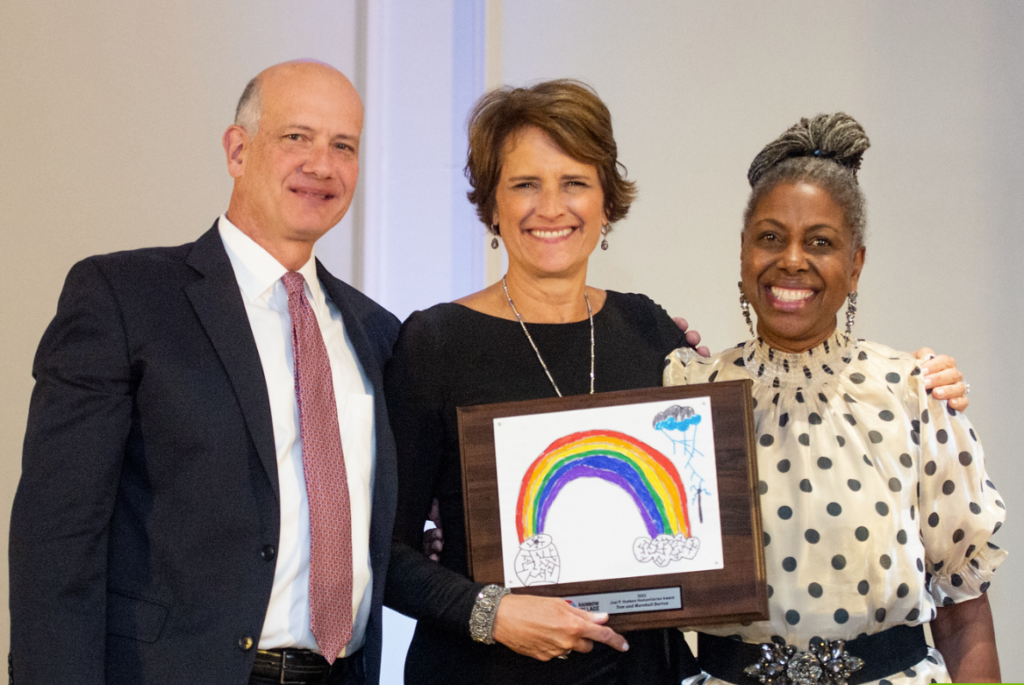 Duluth, Ga., October 13, 2022 – On October 1, hundreds of supporters of a metro Atlanta nonprofit gathered together in the ballroom of the Atlanta Athletic Club. By the end of the evening, $491,920 had been raised on behalf of Rainbow Village and its ongoing mission to bring help, hope, housing and healing to families experiencing homelessness. In the days that followed, the nonprofit presented a challenge to its loyal following to meet the $500,000 goal it had set for its "We Are Family" Benefit Gala. That fanbase stepped forward to close the gap with a final tally of $501,970 – making it possible for Rainbow Village to continue to provide transitional housing and transformational programming to the families it serves.
"At just two and a half acres, our campus is big enough to accommodate 30 families at a time for up to two years," said Melanie Conner, CEO of Rainbow Village. "In 2021, we served 35 individual families – providing 27,000+ bed nights. We are on track to surpass those numbers this year. Unfortunately, the need is great. For more than 2,000 families in Gwinnett County alone, they are either homeless or precariously housed. We receive calls every single day from families seeking our help. Right now, every single apartment at Rainbow Village is filled and we have nowhere to place them. We need to do more. The funds we raised during this year's Benefit Gala will aid in the expansion of our programs beyond the borders of Rainbow Village in hopes of aiding families BEFORE they experience homelessness."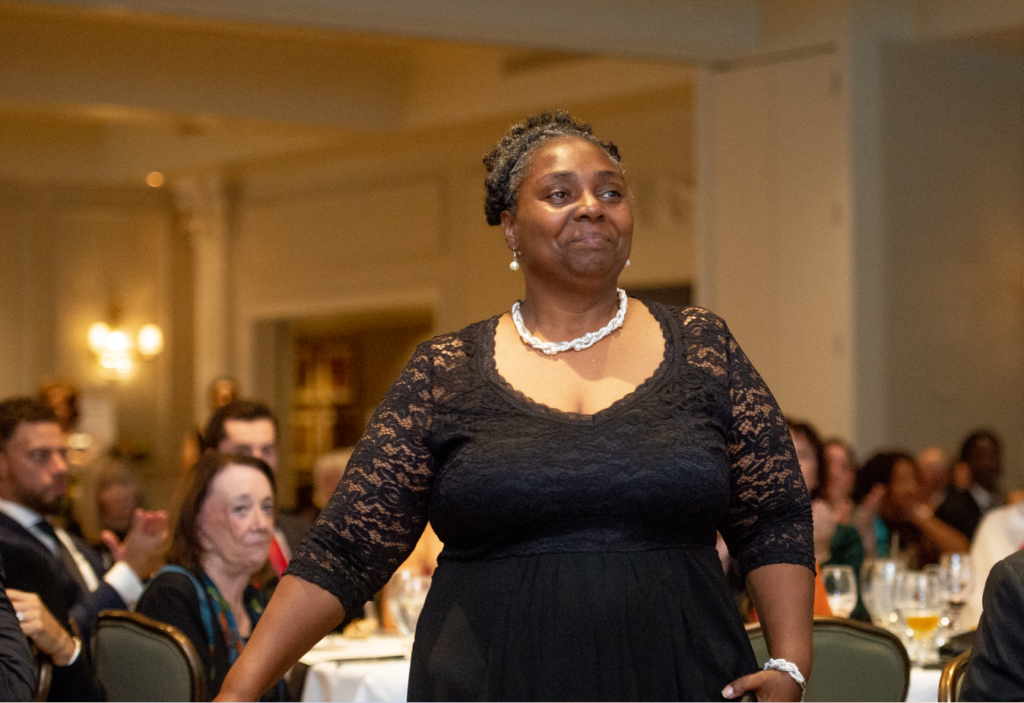 During the Gala, Rainbow Village graduate – Charnette Brown – spoke before the crowd of 298 supporters, sharing her very personal journey from illness to homelessness to great success beyond the borders of the Duluth-based nonprofit's campus. The Gala also served as a forum for the presentation of the 2022 Joel P. Hudson Humanitarian Award to Tom and Marshall Barton for the selfless gifts of their time and treasure to a number of nonprofits and community organizations throughout the area – including Marshall's service on the Rainbow Village board. The winner of the Golden Ticket raffle was also announced, sending Scott Smith and three of his favorite travel companions for a 7-night stay at a Tuscan villa.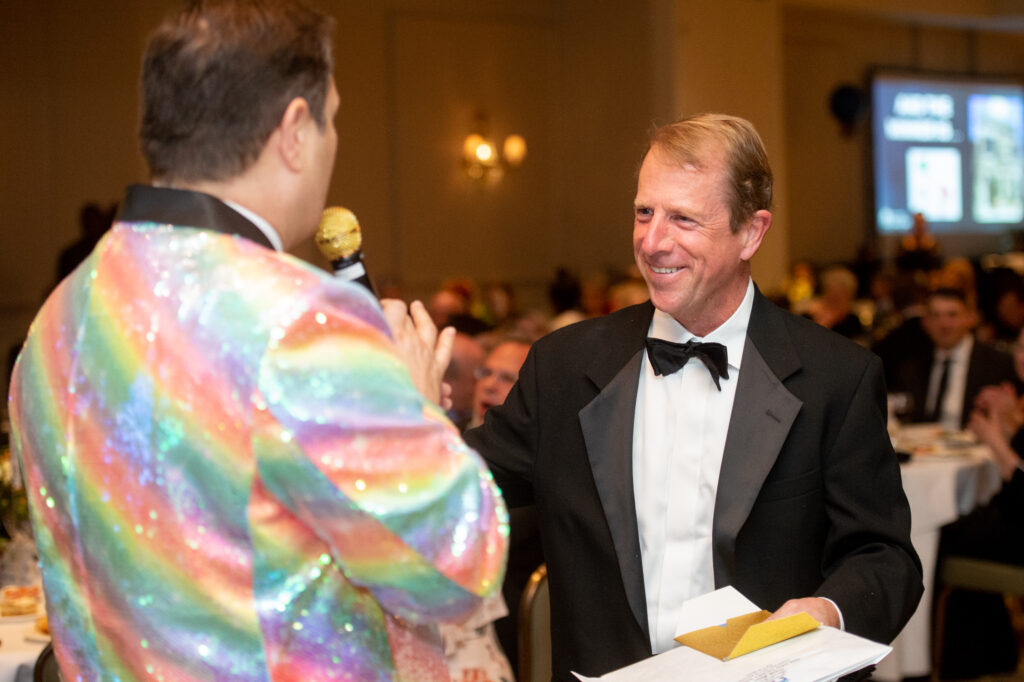 "As the largest fundraiser of the year, we rely on the support of some truly incredible sponsors," added Conner. "My team and I are incredibly grateful for our 2022 Benefit Gala Presenting Sponsor Northside Hospital, Breaking the Cycle Sponsors The Lorentzen Family and Pleasant Hill Presbyterian Church, Changing Lives Sponsors Metro Waterproofing and Wilson Lewis CPAs, and all our other wonderful family, faith and corporate sponsors – as well as our individual donors. We literally could not have done all that we were able to do – and PLAN to do – without the aid of so many huge hearts."
Additional sponsors for the event included Bridge to Self-Sufficiency Sponsor – 12 Stone Church; Building Community Sponsors – Leslie Harrison, The Kress Family, The Bass Family, Georgia Power, Renasant Bank and Porter Steel; Hope and Inspiration Sponsors – All State Electrical, The Fletcher Family, Garrard Group, Axis Companies, ACS Solutions, Coles Barton LLP, Floyd Real Estate Group, Boots Up Endeavors, Primerica, Scott and Holly Phelan Family Foundation, The Whitlock Group, and Andersen, Tate, & Carr; and Caring Hearts Sponsors – Quantum National Bank, Gateway85 CID and Georgia Gwinnett College.
Over the months to come, Rainbow Village will promote a year-end campaign to fuel its goal to expand its reach to families in need beyond its campus in 2023. To support those efforts, individual donors and corporations can make a one-time donation or become a monthly recurring donor of Rainbow Village by texting Giftofhope to 844-422-6444.
About Rainbow Village: Established in 1991, Rainbow Village is a transformative 501(c)3 nonprofit program located in Duluth, GA that serves families that are currently experiencing homelessness. Our model provides safe housing, education, and community support systems that allow families to confidently embark on the journey to self-sufficiency and thrive beyond our village. To learn more about the mission at the heart of Rainbow Village, make a tax-deductible donation or register as a volunteer, visit www.RainbowVillage.org. To stay up-to-date on the latest Rainbow Village news and events, the nonprofit invites you to connect with them on social media, including Facebook @RainbowVillageInc, Instagram @rainbowvillageinc, Twitter @rainbowvillage1, and LinkedIn @rainbow-village-inc.